TL;DR: digital consent is increasingly proven to deliver SDM benefits, our usage is growing exponentially with 212% growth year-on-year in consent episodes created - driven by largely positive clinician and patient feedback, and several impactful product updates have landed making Concentric easier to use for busy clinicians and more accessible for patients.
🎬 Here's our 2022 roundup in less than a minute!
---
Impact and experience…
What is the impact on Shared Decision Making?
In 2022, we've started to see indications of the potential effect of digital consent on shared decision making (SDM) quality, and it was more significant than we assumed it would be - I've summarised some of the evidence in this blog. Two significant papers were released in 2022, one in the British Journal of Surgery and the other in The Surgeon, which have answered some of the questions about SDM and digital consent, whilst also raising many others.
It's heartening to see some research published in favour of the use of digital consent, particularly Concentric, but it's clear there is still work to be done in reviewing its effectiveness. We look forward to future, larger studies evaluating which element of the digital consent process is responsible for the SDM effect, and a full analysis of the impact of remote consent with a comparison of the available digital consent solutions.
I said it was more significant than we assumed. That's because many of the things we think will impact SDM are still on our development roadmap. Watch this space for changes over the coming months and years, but expect to see us making it easier to engage patients in decision-making, supported by Concentric, earlier in the process. We're working on product tweaks that deepen patients' engagement with the decision-making process in their own time.
What do patients think of Concentric?
4.6 out of 5 - that's the average of more than 8300 patient ratings this year. 6139 patients gave us the full 5 stars… what a rating!
Beyond the numbers, patients told us;
"I found the process very comprehensive, particularly with the links to gain further information"
"Brilliant process, very easy and accessible to all"
"The Concentric application was fast and efficient"
Of course - not all the feedback is entirely positive, and gives us things for us to work on with our partners at deploying healthcare organisations in 2023:
"It would be better for patients undergoing surgery to sign this consent at the time of the pre op assessment and not just before the surgery"
"I think it might be better for patients to read the form online before they come to the operation, so that they won't have time pressure to read it right before the operation"
Consent has traditionally often been documented on the day of surgery, and whilst there is some natural shift away from this with the introduction of digital consent, the practice remains common - a combination of system pressures and long-time habits. Patients clearly appreciate access to their personalised consent information ahead of time, and teams who do so often comment on the benefits it has delivered, but there's work to be done to shift the default across the board.
What have clinicians been saying?
We get about 20 feedback submissions from clinicians monthly - to let us know things that they think we could be doing differently, or to suggest features that they would like to see added to Concentric. We use this feedback to prioritise our work on a bi-weekly basis.
Want to add your voice? You can let us know what you think of Concentric in the app by clicking on your name in the top right corner to open the menu, and then clicking on 'Give feedback'. You can also email us at support@concentric.health.
We're active on most social media platforms, and enjoy an open transparent conversation about what's going well… and what's not! Feel free to post your thoughts 🙂
---
Product and process updates
Our product highlights
We release updates every couple of weeks or so, constantly evolving Concentric for the benefit of our users. Thanks to the hard work of the whole team, particularly Martyn and Jon leading the technical team, we've done 20 releases this year. You can read our release notes - summarising the key changes with each release - here, but there are a few things that we are particularly proud of:
We know how much of a pain it is for clinicians to have to remember extra usernames and passwords - that's why all NHS users (and many non-NHS users) can now log in with their existing single sign-on credentials (via NHSmail, Azure or ADFS).

Making Concentric accessible to all is really important to us, and 2022 saw us introduce compatibility with all major web browsers' language translation functionality, meaning that Concentric information can easily be translated into over 100 languages at a click of a button - including any personalisations and notes added by the clinician.

Supporting documenting electronic signatures across a broad range of clinical scenarios is one key element of successfully introducing digital consent across an organisation. Whilst we've supported remote consent and using QR codes to sign on a touchscreen for a while, clinicians were still telling us of scenarios where there was no other option than to fall back to signing with a mouse, which is just a really bad experience. We now support the market-leading signature pad, the Wacom STU-430 and have made it easy to set up within Concentric. Signature pads can be used with desktop computers in outpatient departments and placed on Workstations on Wheels (WOWs) on the wards for easy signing.
Alongside these product updates we've also been busy integrating into the various clinical systems used by healthcare organisations where Concentric is currently being used or being introduced in early 2023.
Most of our partner healthcare organisations are now integrated with Concentric for demographics, document storage into EHR/document management system, launch in the patient's context from EHR, and single sign-on. All of this, unsurprisingly, makes a huge difference to how slick the process is in terms of clinical workflow and eases the transition to digital consent by default.
Improving the onboarding experience
We work hard to make getting started with Concentric, and using it day-to-day, as intuitive an experience as possible. However, there are several different ways it can be used, and many clinical scenarios it covers, so inevitably an onboarding process and video can support the journey to digital consent.
A few weeks ago we released an extended demonstration video, which organisations have been using as part of their onboarding of new clinicians. It features me talking for about 30 minutes, but don't let that put you off!
We've also continued to mature the content of our delivery playbook - a guide we wrote and have been iterating on during the year - to make it easy for organisations to understand the process of moving to digital consent with Concentric.
---
Use statistics
Whilst it's great to see some in-depth reviews of Concentric in peer-reviewed journals, as a digital application, we also keep track of our use statistics, so that we can keep a finger on the pulse (sorry, really bad medical pun - apologies).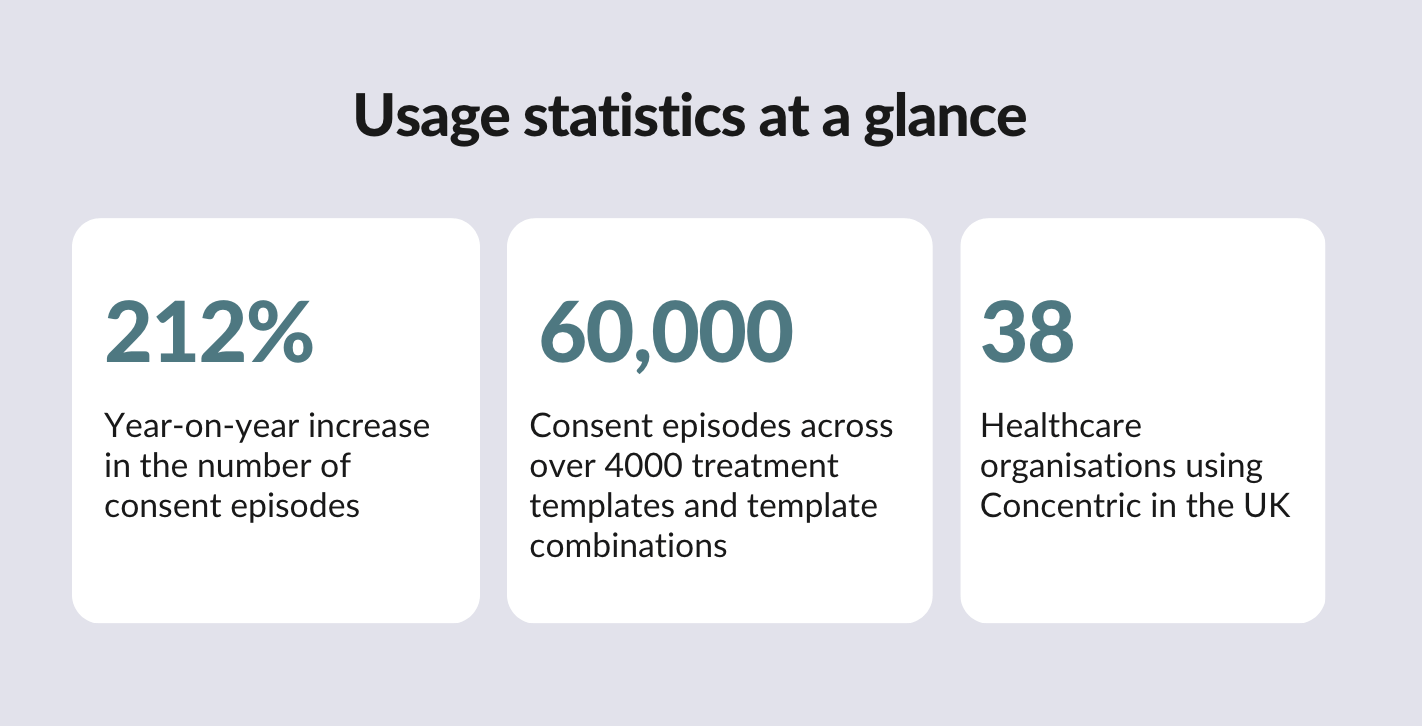 Episodes per week
The first week of 2022 saw Concentric used with 436 patients. By the first week of December, we surpassed 2000 patients giving their consent via Concentric in a week for the first time. The total number for that week was 2252, meaning we've seen a 5x increase in a year - which feels pretty significant.

Interestingly, the final week of our statistics sees a slight drop in usage - the same week as the first national nursing strike in England, which led to some Trusts cancelling elective procedures.
Unique treatment template use
In those consent episodes, we saw Concentric used for 156 unique treatment types used in the first week of the year, compared with 645 a week by December.

Clinical content
As more clinicians from a wider range of specialties begin to use Concentric, we continue to grow the breadth of our ontology (clinical content). This will be a theme moving forward as we aim to make Concentric the best resource of perioperative and treatment information globally.
While there are hundreds of individual treatments in our ever-expanding ontology (1,544 at the last count), there are 9 procedures that have been used over 1,000 times in 2022.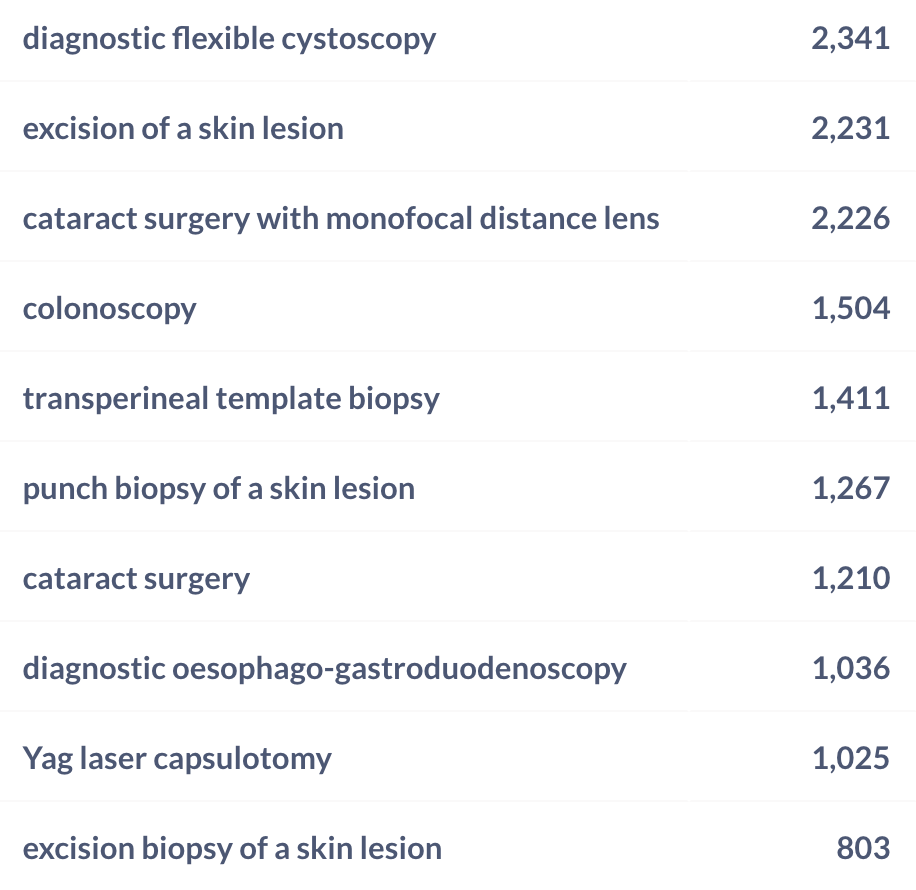 Despite this existing breadth, managing the requests for new content, content updates and local customisations became a key challenge for us during 2022 - driven by the increasing numbers of clinician users. Improving how we manage clinical content, and developing tooling to make it easier to manage customisations locally, looks set to be a headline focus for us in 2023. We welcomed Connor as our Ontology Clinical Lead earlier this month to lead on this work, welcome Connor!
Weekly clinician use
The number of clinicians using Concentric in a given week has increased by nearly 5 times across the year, from 140 at the start of 2022 to 670 in the first week of December.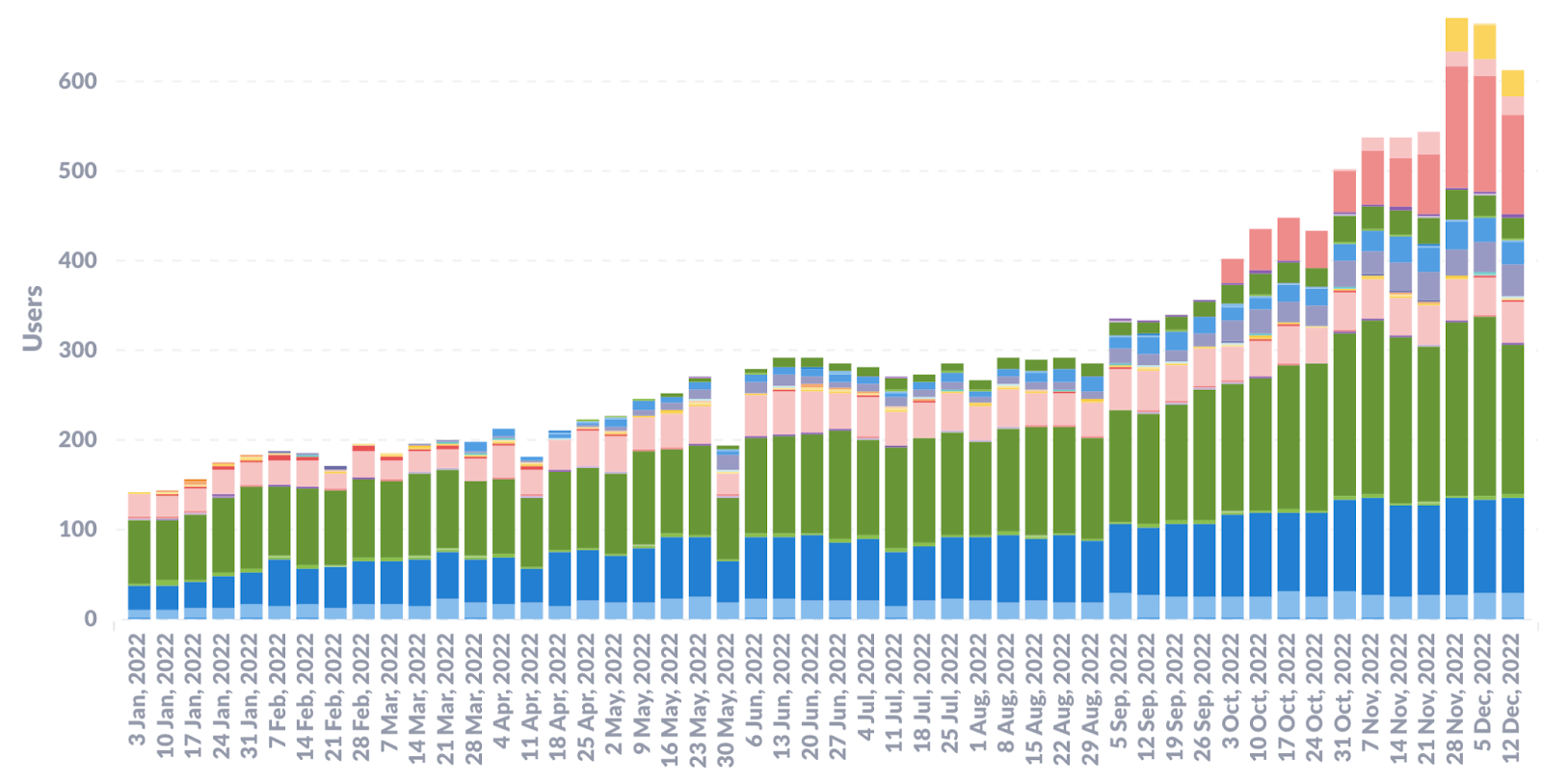 Age of patients
When talking to people who have never used digital consent before, one of the first questions we get asked is "that all sounds great, but do you actually expect older people to be able to use this?". The answer is "absolutely" - our most common patient age bracket is in the mid-70s!
One of the things that we pride ourselves on is the variation of the age of patients who use Concentric. Our age distribution histogram shows a range of more than 100 years from the youngest patient at 0 (parent/guardian using a consent form 2, obviously) to the oldest at over 100. Here each colour shows a different specialty, showing the spread in some specialties (the darkest blue represents dermatology).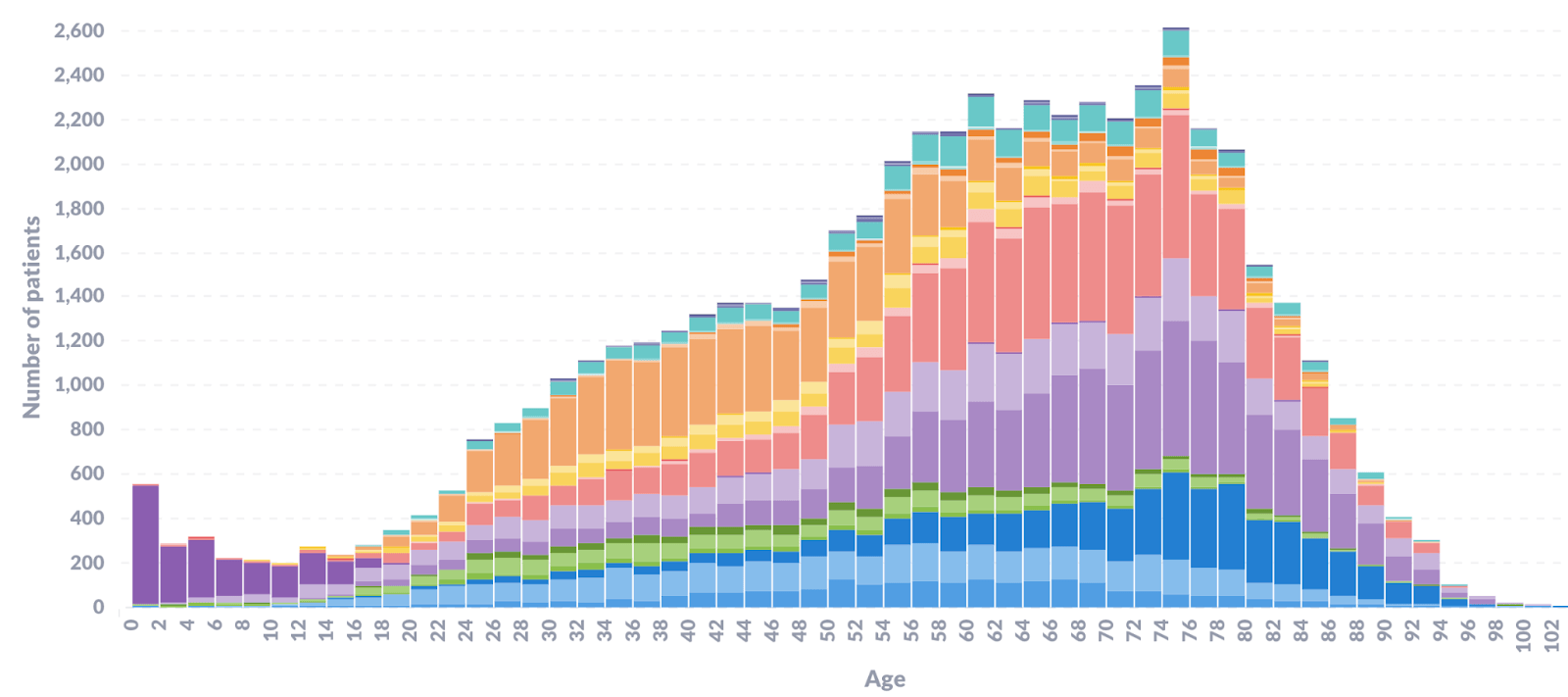 ---
2023 and beyond
All of the usage graphs shown here are moving in an upward direction - which is a sign that more people are beginning to utilise the benefits of digital consent in their clinical practice.
As more healthcare organisations move towards digital consent by default, we want to continue to improve Concentric to ensure it offers users the best possible experience of digital consent. Based on our predictions, we expect to see 250,000 consent episodes being completed via Concentric next year - another milestone in the shift towards digital consent being the default in the UK and globally (we expect paper consent processes to be the anomaly in the UK by about 2025-26).
Thank you to all of our users, without whom we wouldn't be writing this - it is through your support and feedback that we continue to develop Concentric; please do get in touch if there's something you think we could be doing better.
Here's to a happy and healthy 2023!