We're a small team solely focused on improving the consent process, and we hope you enjoy the move over to digital consent. You can read about the team and why we're working on Concentric in our about us page. Most healthcare software is difficult to use, slow, and gets in the way. We hope you soon agree that using Concentric feels pretty different.
Why switch to digital consent?
After using Concentric, the vast majority of clinicians state that they prefer digital consent to the traditional paper process, that the quality of the consent process is improved, and that their time is better utilised.
Patients report improved shared decision making quality, appreciate that their consent information is increasingly accessible and clearly presented, and allows them to revisit the information in their own time.
How is Concentric used?
Using Concentric is simple, and most clinicians take minutes to get accustomed to how it works. This 30-minute in-depth demonstration gives them a detailed understanding, including how Concentric is used in different scenarios, and should give you the confidence to start using Concentric with your next patient.
Some scenarios are not relevant for every clinician, for example the consent form 2 scenario, so use the sections within the video if you'd prefer to only view the scenarios that are relevant to you.
There are additional guides available covering the use of Consent Form 2 and Consent Form 4 scenarios, and what 'additional consents' are, and the process for these within Concentric.
Let's get you started
When your account was set up you'll have received an email from Concentric with initial instructions regarding activating your account. Depending on how you'll login to Concentric this will have either told you which single sign-on provider to use or will have asked you to set your password.

You can then access Concentric at app.concentric.health (or if you've been given demo access to Concentric this is at demo.concentric.health). Concentric can be accessed from anywhere, on any web-enabled device that meets our browser support policy - you should ensure that you have read the policy prior to using Concentric. The integrations with other systems work the same regardless of where you are accessing from.

To get comfortable with using Concentric, most clinicians try it out with a test patient record initially. Each Concentric deployment has some test patients set up, usually you can search for 'test-patient' in the search bar but if that doesn't work email support@concentric.health and we'll direct you to your test patient records.
Finding a patient record
In most cases Concentric is integrated with patient demographics, meaning that to find a patient record simply search using their identification number (depending on your deployment of Concentric this might be a hospital number, clinic number or national identifier such as an NHS number).
On selecting a patient, ensure that it is the correct patient so that no consent information is assigned to the incorrect patient.
If your deployment is not integrated with patient demographics there are some additional details about creating patient records here.
WHO Surgical Safety Checklist
On the day of treatment completed consent episode details are viewed on screen and do not need to be printed out. Depending on whether your deployment is integrated with other systems, this is either viewed within Concentric by clicking the 'View consent form PDF' button, or within the main electronic health record.
Clinician consent statements
To simplify the process, the clinician receiving the patient's consent automatically adds an electronic signature to the consent form PDF as part of being logged in and going through the consent flow with the patient (consult view), or by enabling remote consent.
The electronic signature is associated with the following two statements, added to the 'Statement of health professional' section on the consent form PDF:
I have explained the procedure, including the intended benefits and serious- or frequently occurring risks described in this document to the patient.
I have also discussed what the procedure is likely to involve, the benefits and risks of any alternative treatment (including no treatment), and any particular concerns of the patient.
You should ensure that you are comfortable that the above is true prior to progressing through the consent flow in consult view or enabling remote consent.
Release notes
Concentric is shaped by what our clinician and patient users tell us, and we are always looking to improve based on this feedback. We regularly release updates to Concentric with new and improved product features, and updated clinical content.
You can read our product release notes and content release notes to see the updates that we've made recently. The list of all the treatment templates currently available within Concentric, presented by specialty, is maintained in our treatment template list.
Support and contact details
If you are having any issues getting started with Concentric, a problem arises, or you need an account set up, please let us know so we can quickly get things sorted for you. You can also explore our knowledge bank for answers to frequently asked questions (FAQs) from clinicians and deploying teams.
Email: support@concentric.health
Log in now!
---
Supplementary information
This information is only relevant to some users, and is linked to from the relevant sections above.
Creating a patient record
If your deployment is not integrated with patient demographics then a patient record needs to be created within Concentric before a first episode is created. You'll know this is the case if you're offered the option to 'Add a new patient with this number' after search for a patient. Creating a new patient record involves adding some basic demographics: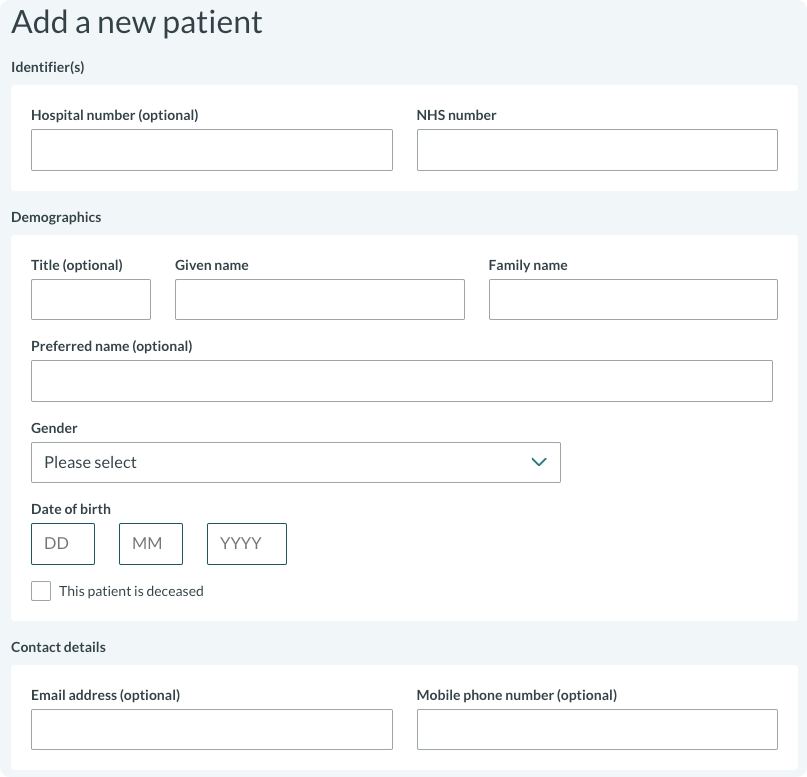 In this non-integrated scenario you should ensure that all the patient demographic fields are correct prior to creating the patient record as errors are associated with clinical risk and may mean that it is difficult to find the record in future, and may mean that consent episodes associated to the patient record cannot be used to confirm that consent has been given (for example in theatre).